Thursday, August 14, 2003
Classic Chicago commercials
[Edited August 2007: I get a lot of hits on this page so I have updated some of the entries with New! and Improved! information. Enjoy!]
I was searching the web for a page that lists all the classic Chicago TV commercials, and the best I could find was a handful of message boards filled with hyperactive former Chicagoans squealing "OHHHHHHH! AND REMEMBER THE EMPIRE GUY?!" So, I'm going to jot down the ones I know here, and will add to the list as I remember more. Suggestions welcome!
To learn about a true devotee of Chicago television, read this
November 2007 article
about a local collector of rare television shows, commercials intact, and visit his fabulous
YouTube site
to relive the snippets and ads and intros that made Chicago TV unique and special.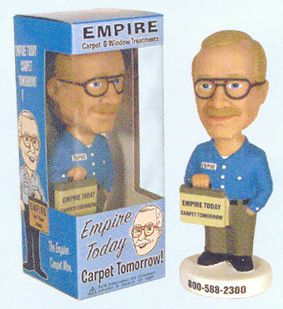 1. Empire Carpet
. The definitive classic! I challenge you to find me a person who lives in Chicago and does not know their phone number. All together now: 588-two-three-hundred, Empire! (Of course, Empire has now gone national, but we had it first. Hmph.) The song has evolved over time; "800" had to be added when the area codes in Chicago started to proliferate, and for a while the singers crammed a "Today" after "Empire" but luckily that went away, even though the actual company name is now "Empire Today". It used to be, you could always depend on the dancing bunnymen at Easter time doing the bunny hop, and the elves doing a carpet sale song to the tune of "Jingle Bells" with the Empire Carpet Man as Santa ("588-two-three-ho-ho!"). More recently the commercials have been pretty boring, with animated Empire guy clones tossing wood laminate and carpet into place with great panache. The Empire guy still does the voice-over but you never see him. Interestingly, if you see Empire commercials on the Spanish-speaking stations, the Empire guy isn't in them in any form.
2. Victory Auto Wreckers.
Rocker Dude opens the door of his beater and the door falls off. "Aw, man, what a drag!" the Dude's body language clearly states. Not to worry, Rocker Dude! "That old car is worth money!" says the voiceover. The Victory tow truck driver arrives and gives the Dude three bills, the top two of which are twenties (and I'm guessing the third one isn't a thousand). The tow truck drives away with the car, though it's not clear where the door ends up. Then a lovely shot of the Victory junkyard, filled with very long cars with tailfins. This commercial has been on the air since 1981, and the sheepish star still lives in the suburbs.
Commercial (this is the newer version - original video but different voiceover). The major change is that they used to say that old car IS worth money. Now, it MIGHT be worth money. Maybe the junkyard is getting full.
3. Lincoln Carpeting.
This one is long gone, but I still remember the jingle... "When you're thinkin' Lincoln Lincoln, Better carpeting for less, call National-2-9000, National-2-9- *phone rings*-thousand!".
4. Danley Garages.
When I was very young and impressionable, I saw these commercials so often that I worried about the inevitable day when I would have to have my garage torn down and rebuilt. It looked pretty unpleasant, so I stored away the name Danley for future reference. Dial G-A-R-A-G-E-S! One call does it all! Danley is still around, same phone number.
5. Tile Outlet.
The blonde lady with perfect bangs did these commercials for ages. Is she the owner? Owner's wife? Who knows? "Are you looking for marble?" she says. "2444 Fullerton in Chicago, just three blocks west of the Kennedy Expressway!" Funny thing is, when we were shopping for tile for our kitchen, I was able to recall the location and drive directly there without having to look it up in the phone book. I guess their advertising pays off. And we're very happy with our tumbled marble backsplash, thanks for asking.
Update: there's a different woman doing the commercials now, but she still gives the directions to the store in case you have forgotten them.
6. DeVry
(now DeVry University). Again, as an impressionable child, this was one of the only schools I had ever heard of, so it seemed a foregone conclusion that this is where I would end up. Either here or...
7. ITT Technical Institute.
Not to be confused with IIT (IL Institute of Technology), which is an actual university in Chicago. At ITT, you learn how to point intelligently at circuit boards and to frown thoughtfully at transmission timers. I could have done that. Okay, not really a Chicago company, but it has always been tied to DeVry in my mind. ITT-Tech is like the DeVry safety school.
8. Eagle Insurance.
The commercial is intentionally goofy but still hilarious. Eagle Man is a guy in a bald eagle suit. He lands on the roof of an uninsured car and announces, "I've got something for yooooou!" Then he rather improbably lays a huge egg on the car, and the egg hatches to reveal a baby eagle holding a sheet of great insurance rates. Uninsured pornstars looked shocked, then pleased. Good fun for all. I think the baby eagle is adorable.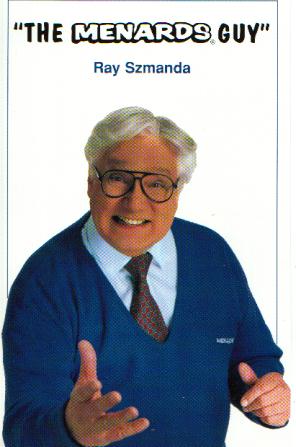 9. Menard's.
Menard's is a Midwest home improvement chain. Their spokesman used to be an overly enthusiastic guy with white hair and a crooked grin and Harry Caray glasses, and between his cheeriness and the banjo music the commercials were frantic and a little hard to bear. The jingle that haunts me in my sleep: "Save big money at Menard's!" He was replaced in 1998 with some faceless upstart, and I was forced to conclude that the Menard's guy might have gone the way of the Maytag Repairman. But wait! He has a
website
! His name is Raymond Szmanda, Jr., and if you visit his website you can hear him say his famous tagline in full living Windows audio. I have to say I appreciate when our classic commercial folks make my job easy for me.
10. Peter Francis Geraci.
24-Hour Bankruptcy ((Info))((Tapes))!! The double parentheses used to be part of the tagline but now that there's a website, it's just plain old "infotapes.com". With Mr. Geraci's doleful face gazing out of your tv and into your financial heart, how could you *not* call now and learn how you too can get out of debt? He seems so sad and he cares so much about my well-being, I'm almost tempted to declare bankruptcy just to cheer him up.
11. Celozzi-Ettleson Chevrolet.
These are pretty standard dealership commercials, except for the two well-dressed gentlemen holding fistfuls of cash and chanting together: "Where you'll always save more money!" I'm not sure how much they're saving us if they have handfuls of cash to taunt us with afterwards.
12. Luna Carpeting.
"773-202-*four touchtone sounds*-LUNA!" Once you've heard it 16 billion times, it will be in your head forever.
13. Aronson Furniture.
"Aronson (Aronson Furniture), Home of the Credit Connection! Aronson!" Another jingle playing on Hell's soundtrack. We went to their Grand Ave. store a few years ago and found that their inventory was hopelessly trapped in the 80s, all chrome and faux velvet and black lacquer. That may explain why Aronson closed all its stores in 2006.
14. Boushelle.
I barely remember this one, but Boushelle carpet cleaning is often cited as the second-most memorable Chicago jingle after Empire. "HUdson 3-2700" sung in a rich "Old Man River" bass... nice. Between Boushelle and
Magikist
, all those carpets we buy at Empire and Luna are in good hands.
15. Walter E. Smithe.
"You dream it, we build it!" These are more recent commercials, and I really love these guys. The difficulty they face is being funny and quaint while pushing an extremely high-end product (no black lacquer in their stores, unless it's an antique Japanese inlaid lacquer cabinet with a $4000 price tag). I think they succeed very nicely and I'd love to invite them all over for a beer. But then they'd see my furniture. Hmm, maybe not.
16. Brown's Chicken.
"That's the thing about Brown's: it tastes better!" I loved Brown's Chicken growing up in Rockford. They made the only chicken livers I actually liked (everything's better when breaded and deep-fried). The Brown's Chicken in Palatine was the site of a
really horrible crime
in 1993, and the word "massacre" became closely linked to the restaurant name for many years but that seems to be fading now. Interestingly, Brown's founder Frank Portillo is the brother of Dick Portillo, founder of the Portillo's hot dog restaurants scattered around the Chicago area. Between them, they have all your fast food needs pretty much covered.
17. Feldco.
I kept catching myself singing the Feldco jingle and realized, duh, it needs to be on this list so everyone else can suffer as well. "Call 866-4-Feldco!" Feldco is a Chicago-area window company whose commercials feature a smiling, clean-cut, all-American guy,
Installer Dave
, who based on my scientific research (=googling) creeps more than a few people out. I'm sure he's very nice but the unwavering smile is unnerving. Current CEO Doug Cook bought the 25-year-old window company in 2000 and rejuvenated it via marketing blitz, and now Installer Dave is everywhere. I've been trying to figure out Dave's true identity; I suspect he's Doug's brother.
No video yet! Somebody post one!
18. WTTW.
I'm not sure if this fits here, but I have always wanted to be one of the people who get to say "You're watching WTTW Channel 11, Chicago!" in between PBS shows. I worry that the day I finally encounter that illustrious roving film crew, I'll be all unshowered and scary. Between that and worrying about having to get my garage rebuilt, I have a lot on my mind.